Primary care services are the first point of contact in the healthcare system, acting as the 'front door' to the NHS. These services include: GPs, community pharmacies, dental care and eye health services.
What is a primary care network (PCN)?
A primary care network consists of groups of general practices working together, and in partnership with community, mental health, social care, pharmacy, hospital and voluntary services in their local area, to offer more personalised, coordinated health and social care to the people living in their area.
There are 41 PCNs in Kent and Medway. Networks will be aligned to a health and care partnership. This will support them to work more closely with other partners in the area.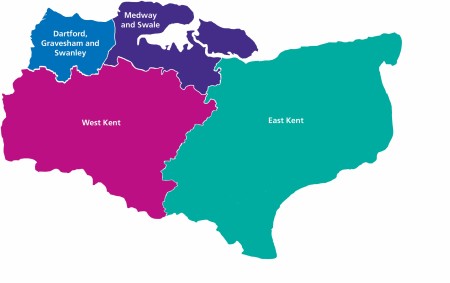 There are seven primary care networks in Dartford, Gravesham and Swanley, made up of 23 GP practices. Old Road West Surgery in Gravesend is not aligned to a PCN.
Dartford Central
Horsman's Place Surgery
Redwood Surgery (Dartford West Health Centre)
Temple Hill Group
Dartford Model
Dr Shimmins and Partners (Dartford East Health Centre)
Lowfield Medical Practice
The Wellcome Practice
Garden City
Downs Way Medical Practice
Swanscombe Health Centre
Parrock Street Surgery
Pilgrims Way Surgery
Gravesend Alliance
Oakfield Health Centre
The Shrubbery and Riverview Park Surgeries
Springhead Health Limited
Gravesend Central
Chalk Surgery (Lower Higham Road Surgery)
Gravesend Medical Centre
Pelham Medical Practice
Rochester Road Surgery
LMN Care
Jubilee Medical Practice
Meopham Medical Practice
Swanley and Rural
The Cedars Surgery
Devon Road Surgery
Farningham (Braeside) Surgery
The Oaks Partnership
There are 16 primary care networks in east Kent, made up of 65 GP practices.
AMP
Ashford Medical Partnership
Ashford Rural
Charing Surgey
Hamstreet Surgery
Ivy Court Surgery
Woodchurch Surgery
Canterbury North
Canterbury Health Centre
Northgate Medical Practice
Old School Surgery
Sturry Surgery
Canterbury South
Canterbury Medical Practice
New Dover Road Surgery
University Medical Centre
CARE
Ash Surgery
Birchington Medical Centre
Broadstairs Medical Practice
Minster Surgery
St Peter's Surgery
Westgate Surgery
Deal and Sandwich
Balmoral Surgery
Manor Road Surgery
Sandwich Medical Practice
St Richard's Road Surgery
The Cedars Surgery
Dover Town
Buckland Medical Practice
High Street Surgery
St James' Surgery
Folkestone, Hythe and Rural
Church Road Practice
Folkestone Surgery
Hawkinge and Elham Surgery
New Lyminge Surgery
Oaklands Health Centre
Sun Lane Surgery
White House Surgery
Herne Bay
The Heron Medical Practice
Park Surgery
Margate
Bethesda Medical Centre
Mockett's Wood Surgery
Northdown Surgery
The Limes Medical Centre
Mid Kent PCN
Faversham Medical Practice
Newton Road Surgery
Hollington Surgery
Kingsnorth Medical Practice
New Hayesbank Surgery
Sellindge Surgery
Sydenham House Medical Centre
Wye Surgery
Ramsgate
Dashwood Medical Centre
East Cliff Medical Practice
Newington Road Surgery
Summerhill Surgery
The Grange Practice
THE (Total Healthcare Excellence) East
Aylesham Medical Practice
Lydden Surgery
White Cliffs Medical Centre
Pencester Surgery
The Marsh
Church Lane Health Centre
Martello Health Centre
Oak Hall Practice
Orchard House Surgery
THE (Total Healthcare Excellence) West
Guildhall Street Surgery
Manor Clinic
Sandgate Road Surgery
The New Surgery
Whitstable
Whitstable Medical Practice
There are nine primary care networks in Medway and Swale, made up of 51 GP practices. Princes Park Medical Centre is not aligned to a PCN.
Gillingham South
Glebe Family Practice
Malvern Road Surgery (Medway Medical Centre)
Napier Road Surgery
Pump Lane
Upper Canterbury Street
Woodlands Family Practice
Medway Central
Balmoral Gardens
Brompton Medical Centre
Bryant Street Medical Practice
Kings Family Practice
Maritime Health Partnership
The Halfway Surgery
Medway Peninsula
Highparks Medical Practice
St Werburgh Practice
The Elms Medical Centre
Medway South
King George Road Surgery
Maidstone Road Chatham Surgery
Reach Healthcare
Stonecross and West Drive Surgery
The Churchill Clinic
Medway Rainham
Church View Practice
Eastcourt Lane Surgery
Long Catlis Road Surgery
Maidstone Road Rainham Surgery
Matrix Medical Centre
Orchard Family Practice
Parkwood Family Practice
Thames Avenue
Waltham Road
Wigmore Medical Centre
Rochester
Borstal Village
Castle Medical Practice
City Way Surgery
The Thorndike Centre
Sheppey
Sheerness Health Centre (Dr Patel)
Dr S J Witts Practice
Sheppey Healthy Living Centre (Dr Shah)
St Georges Medical Centre
The Om Medical Centre
Sittingbourne
Chestnuts Surgery
Grovehurst Surgery
London Road Medical Centre
Meads Medical Practice
Memorial Medical Centre
Dr RB Kumar Practice
Greenporch Medical partnership
Strood
Apex Medical Practice
Court View Surgery
Gun Lane
Marlowe Park Medical Centre
Riverside Medical Practice
There are nine primary care networks in west Kent, made up of 53 GP practices.
ABC
Aylesford Medical Centre
Blackthorn Medical Practice
The College Practice
Maidstone Central
Bower Mount Medical Centre
Brewer Street Surgery
The Medical Centre Group (Northumberland Court Surgery)
The Vine Medical Centre
Maidstone South
Albion Place Medical Practice
Greensands Health Centre
Mote Medical Centre
Wallis Avenue Surgery
Malling
Phoenix Medical Practice
Snodland Medical Practice
Thornhills Medical Practice
Wateringbury Surgery
West Malling Group Practice
Sevenoaks
Amherst Medical Practice
Borough Green Medical Practice
Edenbridge Medical Practice
Otford Medical Practice
South Park Medical Practice
St John's Medical Practice
Town Medical Centre
Westerham Practice
The Ridge
Bearsted Medical Practice
Headcorn Surgery
Langley Surgery (The Orchard Surgery)
Len Valley Practice
Sutton Valence Group Practice
Tonbridge
Hadlow Medical Centre
Hildenborough Medical Group
Tonbridge Medical Group
Warders Medical Centre
Woodlands Health Centre
Tunbridge Wells
Grosvenor and St James Medical Centre
Kingswood Surgery
Lonsdale Medical Centre
Rusthall Medical Centre
Speldhurst and Greggswood Medical Group
St Andrews Medical Centre
Waterfield House Surgery
The Wells Medical Practice
Weald
Howell Surgery
Lamberhurst Surgery
Malling Health Four (Staplehurst Surgery)
Marden Medical Centre
Old Parsonage Surgery
Old School Surgery
Orchard End Surgery
The Crane Surgery
Weald View Medical Practice
Yalding
The networks were established in 2019 and have already begun working together to provide more services outside the standard surgery opening times. A large part of the Covid-19 vaccination programme has also been co-ordinated by PCNs across Kent and Medway.
As they develop further, primary care networks will:
introduce new healthcare professionals to GP practices, such as specialist nurses, paramedics and pharmacists
make better use of technology to support patients
offer appointments that work around your life with shorter waiting times. You'll be able to book on the NHS app for online consultations, phone and face-to-face appointments.
The Kent and Medway Primary Care Strategy
As part of Kent and Medway's response to the NHS Long Term Plan, we have created an ambitious strategy which outlines how we plan to improve practice-based primary care services in Kent and Medway over the next five years.
The strategy has been created by GP colleagues, commissioners, patients and other community service providers, who are working together to make sure we have safe, effective and good quality GP services now and in the future.
Together, we will:
support primary care networks to provide a wider range of services based on the health needs of the people they care for. This includes a social prescribing service to enable GPs to refer patients to a link worker who will support them to access services provided by voluntary or community services to combat loneliness and social isolation
support practices to work with each other and other healthcare providers in the county, so care is more joined-up and services work better together.