Health and care partnerships (previously called Integrated Care Partnerships or ICPs) bring together all provider health organisations in a given area to work as one.
Each organisation within a partnership retains its own budget but will agree, with other partners, how it is spent for the benefit of the local community.
Partnerships can design and deliver services to meet the needs of everyone they serve based on their local population. They can focus services on areas of greatest need, helping to reduce health inequalities and improve life expectancy.
HCPs are supporting healthcare providers to work more closely with local councils – not just with social care and public health colleagues, but also education, planning, housing, environmental health and leisure services.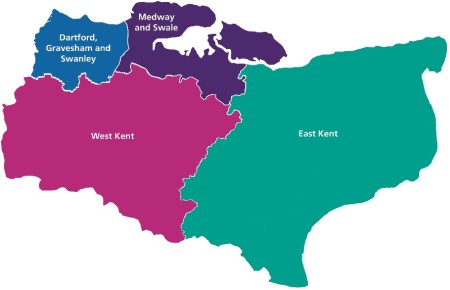 There are four health and care
partnerships in Kent and Medway:
HCPs' place in the system
Some planning and service design is done once across all of Kent and Medway for the whole population of 1.9million people. The clinical commissioning group leads this work - replaced by the NHS Kent and Medway Integrated Care Board from 1 July 2022.
In 2019, primary care networks were established to group practices together to strengthen GP services and other primary care providers in your local area. Most PCNs serve a population of around 30-50,000.
Our health and care partnerships sit between these two levels, bringing together the providers of health and care services, along with other key local partners to work together to plan and deliver care. Our HCPs cover populations of 260-700,000.