Be here. For a career you can help define. With a supportive team who'll enable you to make a real difference to your patients' lives.
Helping others is an honourable cause – but some need your help more than others.
In Kent and Medway, we believe in being a voice for those without one. Being a pillar of strength in a diverse and vibrant community. Being someone who doesn't give up – on others or themselves.
But we don't just help others, we help you too.
We give you the support, flexibility and time you need to build a portfolio career that matches your ambition and personal commitments. From interesting and diverse case-loads to the opportunity to take on additional educational roles. We're by your side through the unique challenges faced by people in our communities. And from day one, you'll have the freedom to shape and influence how our practices are run.
Join us, and you'll also benefit from a support and development package that includes an experienced GP mentor, the opportunity to enrol on to the New to Practice Programme and two-year Fellowship Scheme, regular protected learning time events, and a welcome navigator to ease your relocation.
Be here to make an impact.
Be here with more flexibility.
Be here in Kent and Medway.
But don't take our word for it, hear from some of the GPs working here now
I studied in Germany and came over to England – impressed by the more practical and less academic/hierarchical approach to medicine in general and the on-going obligation of every senior to pass on knowledge to new practitioners. While here I met my now wife so decided to settle in Thanet.
Being a GP in Kent and Medway gives you the opportunity to have a wide ranging, multifaceted role where particular interests can be developed and grown as you change throughout your career. I think I get a great balance of being able to have variety and constant change at the same time as having the intimacy of a GP role with your patients and their families. Combined with partners who share a passion for good care and empathy, it's the best job to have.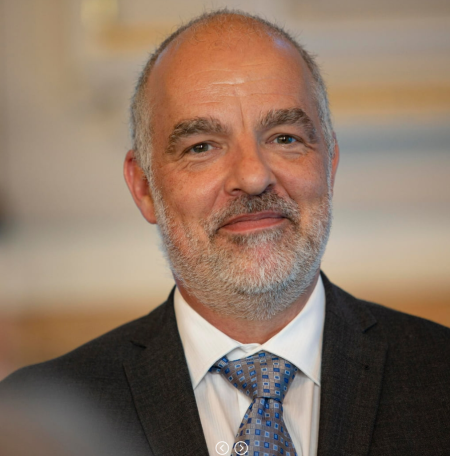 Our learning and development never stops. I am a GP trainer, have a PgD in Ultrasound and have leadership roles as the senior partner and CEO of the Thanet Health Community Interest Company (CIC). Which means I now have a comprehensive understanding on how a surgery, a Primary Care Network, a diagnostic service and a company works.
After the initial getting to grips with being "just" a GP my interest in training quickly developed into becoming a GP trainer. I also developed a clinic with the addiction service – using motivational interviewing and methadone prescribing to support clients on their journey to recovery from opiate addiction.
As I had carried out enhanced GP training – six months additional working as ST3 – I had acquired skills in sonography and this led to me formally obtaining the qualifications to be a sonographer via a postgraduate Diploma (PgD). This required me to be away from my practice for a number of sessions a week but meant that with some investment into ultrasound clinics, the Grange has now been a provider for more than a decade.
I was given opportunities to get more and more involved in leadership work in Thanet and finally became the CEO of the Thanet Health CIC – which now gives me the opportunity to drive changes, support primary care through its challenges and help our local and wider system through a different footprint and circle of influence, working the NHS Kent and Medway and other partners.
And I get to do this interesting work in Thanet. It is wonderful to have three coasts, the best sand, sunsets and sunrises in England! It is a great area to be with your family and see your children develop and grow amidst very good educational and sport opportunities.
Thanet in particular has also a long-standing history with performing arts – and since I sing, play flute and guitar – this suits me rather well.
Practising in Thanet, one of the most deprived areas in England, does also mean it's comparatively easy to make a real, tangible difference to patients, surgeries and providers alike.
A GP here can shape their career, develop their preferred portfolio (which can change through the years) and develop further and further with the full support of their colleagues and the system. Our work here can include primary and secondary care and working closely with the third sector – there are so many opportunities to get involved into projects, new models of service delivery, broadening your own skill set and ongoing learning – the only limitation is your imagination.
We will do everything we can to support any GP coming here to realise their professional aspirations and develop their legacy that could live on beyond their personal careers.
Dr Christopher Ozua has been working in various general practice roles in Kent and Medway for 22 years.
He spent most of his working life working in north Kent, where he was a senior partner at a practice in Gravesend.
After opting for a fresh challenge, Dr Ozua joined the Sheerness Health Centre as a locum GP.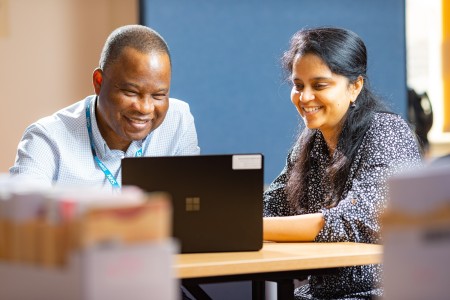 "I had heard of the Isle of Sheppey but had never been there. I spoke to colleagues who gave me very good feedback and I was really pleased I came here, it's interesting, the patients are friendly, and the receptionists and doctors are lovely to work with. It's really supportive environment. The staff were very nice and cooperative, but most importantly they work as a team. The doctors, nurses, and reception staff all work very well and I've had a lot of support from them."
"I had been working in Gravesend for so many years, and I was well known in the area. It was very easy for me to find places to work there, but I just wanted a challenge to see what other parts of the county would be like. I have not regretted it for a minute."
Dr Fraser Newton relocated to Kent from Sheffield eight years ago and has never looked back.
He moved to the area to be closer to his wife and has developed his career in general practice by becoming a GP partner and diabetes lead at The Grange Practice in Ramsgate.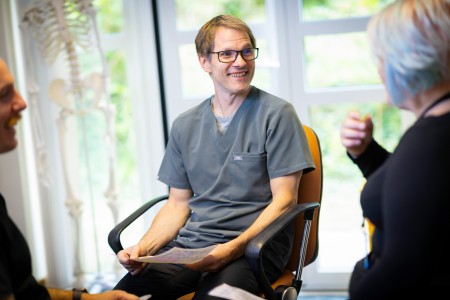 "The best thing about working in Thanet is working with people. We are a deprived area and there's a lot of need and health inequalities. Helping to be a part of addressing some of those inequalities and being part of such a good team – that's the key thing. A GP surgery is pretty much the same anywhere but the team that you work with is special so I'm lucky to work here.
"Since I moved here, I've become the diabetes lead for this practice. I've been on the PITstop training course, and I now work alongside a specialist nurse here to develop our diabetes team – so that's just one opportunity that I've taken.
"Within the wider team, we've got colleagues looking to develop into ultrasound sonographers, as well doing GP work. Our team has expanded since I've been here from about 25 to 50 people. There are lots of opportunities for progression.
"Being by the sea was a real draw of Thanet. The landscape and the seascape are breath-taking. The practice population is quite deprived which means I'm working with people who have genuine need.
"There are lots of professional opportunities, nice properties, and lovely scenery – I would certainly recommend it. It's a great place to start a family and settle down – certainty that's how it's turned out for me."
"I am proud to be a third generation GP. I did my medicine degree in 1995 Karachi Pakistan, mainly working in A&E. When I moved to the UK in 2000 I went first to in A&E as Senior House Officer (SHO) and then as staff grade at Queen Elizabeth Queen Mother hospital (QEQM), Margate. I also worked as SHO in Orthopaedics for a year in between.
"Having a young family did not work well with the shift patterns in A&E and never having weekends off. So I made the switch to general practice, following in my family's footsteps. Now I am growing old with my two boys. The three of us play cricket for the same team, enjoy jet-skiing in the summer, are active members of Thanet Squash club and get to cycle beside the cliff to go to work.
"During my training I did have some issues, but my mentor was always on hand to give me the support I needed. In my practice I have had full support to take part in projects that deliver real change, like re-designing urgent care, proactive long-term care management, group consultations etc.
"I bring a strong sense of team working, support staff in their development, provide supervision in training and personally love doing minor surgeries. I have successfully supported Advanced nurse practitioners, and trained and supported an independent paramedic practitioner doing minor surgeries. I am a clinical supervisor and work with FY2 doctors.
"What I like about general practice is that you become a part of your patient's family and truly can make a difference just by being there for them. It's not all about diagnosing and prescribing meds.In the next few years I will be focusing more on providing care at scale and being part of new "neighbourhood" system.
"Before moving to Thanet I was living in London. I came to work in Margate as a locum and fell in love with this beautiful seaside cluster of towns. No traffic and excellent road links to London made it even more appealing. Interestingly once I made the move, my whole family moved to Thanet shortly afterwards. On a weekend, birthdays or occasions – there are now 22 people in the house!
"Kent has excellent schools and just in Thanet we have two grammar schools. Excellent OFSTED rated primary and secondary schools. Work is 10 minutes away by car and 20 minutes by cycle, which has been a blessing. I love cricket and so do my boys, my brother-in-law and his son, we all play for the same team, and this means that we are five out of 11 in the team.
"If you love outdoors activities, walks, cycling – Kent has the coastline and towns to inspire and to fall in love with. In short if you would like to work and feel like you're on your holidays in your spare time, Kent and Medway is the place to be."
"I had worked in a few other places before I decided to settle down in Medway. I enjoyed the pretty villages and the peaceful countryside in Medway which, coupled with its with superb transport links, meant it had a superb quality of life. However, one of the key reasons I decided to base myself here is the excellent communication between various community teams.
"As a GP I rely a lot on community teams like the home visiting team, social prescribers, community sexual health team, to name a few. They have always helped me look after my patients in the best possible way. I am a GP with special interest in sexual and reproductive health. The sexual health clinic here provides excellent support to all the clinicians for LARC training and practice in community. They initially provide LARC training in Clover Street sexual health clinic and then help GPs establish their own LARC clinic in practice. This not only helps GPs with their professional development but also helps patients get the required treatment near their home.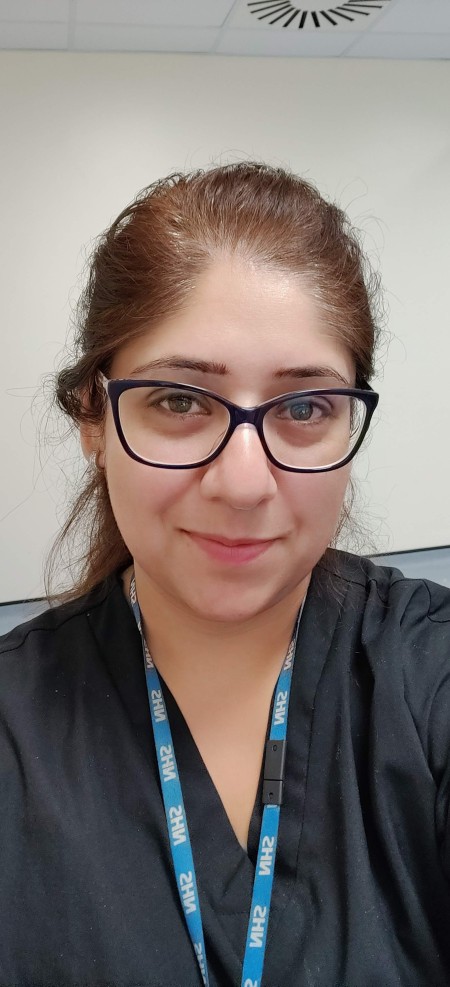 "I feel very lucky to be part of Medway GP training scheme. The training scheme offers three rotations per year, which is more practical and useful as compared to two rotations per year. All the rotations are well planned and in accordance with the GP curriculum. The recent inclusion of sexual health, community paediatrics and other community clinics is an excellent way of preparing trainees to be competent GPs in future. This is as well as the New To Practice Programme and Post CCT Fellowship promises, which are part of ongoing support and professional development for all newly qualified GPs."
"I've been working in Kent and Medway for four years. I completed my medical training in Liverpool in 2008 and initially began a career in anaesthetics and ITU.
"After a change in personal circumstances, I decided to move into general practice - completing my specialist training in Liverpool and subsequently working as a salaried GP in a large practice in the centre of Liverpool.
"In 2018 we moved to Canterbury to be closer to family and I joined Newton Place Surgery in Faversham.
"I love the variety of general practice - we see people from every stage of life. I really enjoy the regular opportunities I get to use my experience in acute medicine, and there are lots of opportunities to specialise.
"I have been very fortunate in finding opportunities for development in Kent and Medway. I initially started in a salaried role in my practice and after two years was given the opportunity to become a partner.
"There are opportunities to take my education role further through the training hub, and opportunities to extend the scope of my women's health clinic to incorporate more procedures. As a practice we are looking at ways in which we can diversify our services, and this will bring further opportunities for development.
"Kent and Medway is quite a unique place to live and work. The size of the county and the coastal communities all make for an extremely varied population.
"I believe the recent system shift towards population health is hugely important for general practice as we are so connected to our local communities. It's a really fun place to live and particularly with young children; our girls love days at the beach, the rich cultural history in and around Canterbury, and the excitement of London or France right on our doorstep."