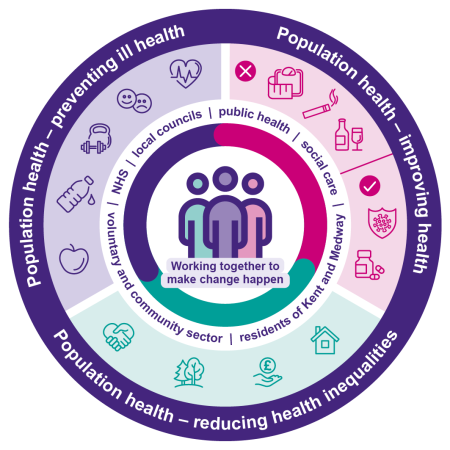 Population health is about improving the physical and mental health and wellbeing of everyone in Kent and Medway. It also looks at why some people's health is better than others, understand the causes and help close the gaps.
This will be achieved by working together. The NHS, councils, public health, social care, the voluntary and community sector and the communities and neighbourhoods of Kent and Medway joining data, experience, knowledge and skills to work towards a common goal.
We will strengthen partnerships, develop leadership skills and share knowledge.
Population Health Management programme
In 2021/22, partners across Kent and Medway took part in a 22-week PHM programme. The aims were to:
analyse data
identify groups of residents with similar health and wellbeing needs
work with partners to design and deliver new ways of supporting these communities.
Dover
Dover Town Primary Care Network's PHM programme aimed to support people take personal responsibility for their health and wellbeing.
The PCN focused on a group of patients aged between 40 and 69 who were obese with hypertension and depression.
The aim was to introduce the patients to providers such as One You Kent and Kent County Council's library service – to support them to make positive lifestyle changes.
Find out more in the Dover film.
Ramsgate
Ramsgate Primary Care Network's PHM programme focused on a group of housebound patients with diabetes. The objective of the project was to make them more visible to all health and social care organisations and improve their quality of life.
The patients were offered health checks, insulin reviews, Covid-19 and flu vaccinations, guidance on how to use an online tool for diabetes management and carer support, training and education.
Find out more in the Ramsgate film.