Case studies 2023
Fresh fruit, vegetables and flowers, straight from Kent and Medway NHS and Social Care Partnership Trust's (KMPT) therapeutic hospital garden in Canterbury, are available to buy every Monday, Wednesday and Friday from 12noon to 2pm.
Everyone is welcome to visit the two acre walled Webb's Garden, within the grounds of St Martin's Hospital on Littlebourne Road, and now the KMPT team and local community are able to enjoy the home-grown produce for themselves.
You can drop by the pop-up shop to buy fresh food and flowers as well as meet the green fingered volunteers who manage and farm garden alongside the trust's voluntary services team.
All funds raised are used to purchase garden equipment and sustainable materials, so everyone can continue to enjoy Webb's Garden year-round.
Learn more about Webb's Garden.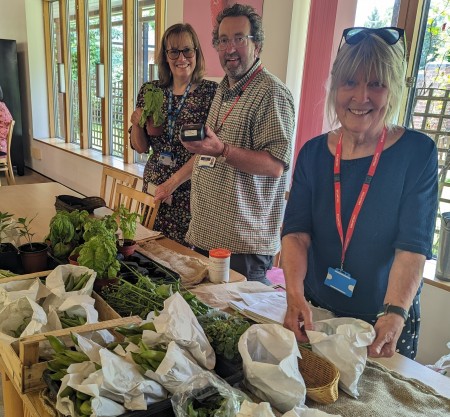 2022
Kent and Medway NHS and Social Care Partnership Trust (KMPT) teamed up with The Centre for Sustainable Healthcare to add to the NHS Forest, designed to help improve the health and wellbeing of patients, staff and local communities.
The NHS Forest is a national project which promotes preventative healthcare by increasing people's access to green spaces; helping local people to stay healthy and aiding the recovery of patients by using the benefits of the natural environment for therapeutic purposes.
Various KMPT sites have benefitted from the arrival of tree saplings including oak, hornbeam, willow, spindle and box. These were all planted in February 2022 by staff, service users and students from LINK19 and Canterbury Academy.
The students involved were also provided with the opportunity to learn more about the NHS, its roles and potential career pathways, as well as discuss the possibility of adopting KMPT green spaces that they could tend to on a voluntary basis.
Read more about how NHS Forest continues to grow with the help of KMPT.