Case studies 2023
Around the Medway Maritime Hospital site, there are water filling stations to reduce plastic waste and Amazon lockers are available for patients, staff and visitors to reduce deliveries and the resulting carbon emissions.
Since November 2022, the Catering Team has reduced the use of:
plastic cups by 7,600
foam cups by 1,925
plastic cutlery by 68,100
plastic straws by 10,500.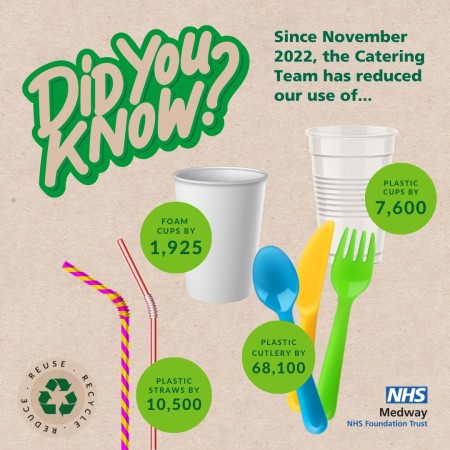 Dartford and Gravesham NHS Trust (DGT) has received up to £543,000 to aid in decarbonising the Children's Resource Centre at Darent Valley Hospital.
The funding, known as the Salix Public Sector Decarbonisation Scheme 3B, allows trusts to receive decarbonisation funding provided they show value for money and direct carbon emission reductions, based on a cost per tonne of carbon saved over the life of the project.
The project has been designed to a "Fabric first" approach, where changes to the building are made to reduce heat loss before decarbonisation, so that energy use is minimised, as well as the size and capacity of new equipment.
By improving the wall insulation of the building, the trust will be able to heat the centre with just over a third of the current energy.
The overall project will save over 83 tonnes of carbon emissions each year.
Read more about how DGT received £543,000 to aid in decarbonising children's resource centre.
2022
Victoria Hospital in Deal started 2022 with a bang with more than £150k worth of investment in creating a sustainable future.
As part of the Kent Community Health NHS Foundation Trust sustainability strategy, the trust installed 284 solar panels at the hospital.
This will help the trust to reduce the amount of carbon dioxide produced to run the hospital by 40 per cent (30,000 kilos), the equivalent of travelling from Deal to London, a distance of 83 miles, 682 times a year.
Read more about how Victoria Hospital has received £150k worth of investment in creating a sustainable future.​​​​​